03-08-17
LeaderGPU will soon be offering new video cards AMD Radeon Vega Frontier based on Vega GPU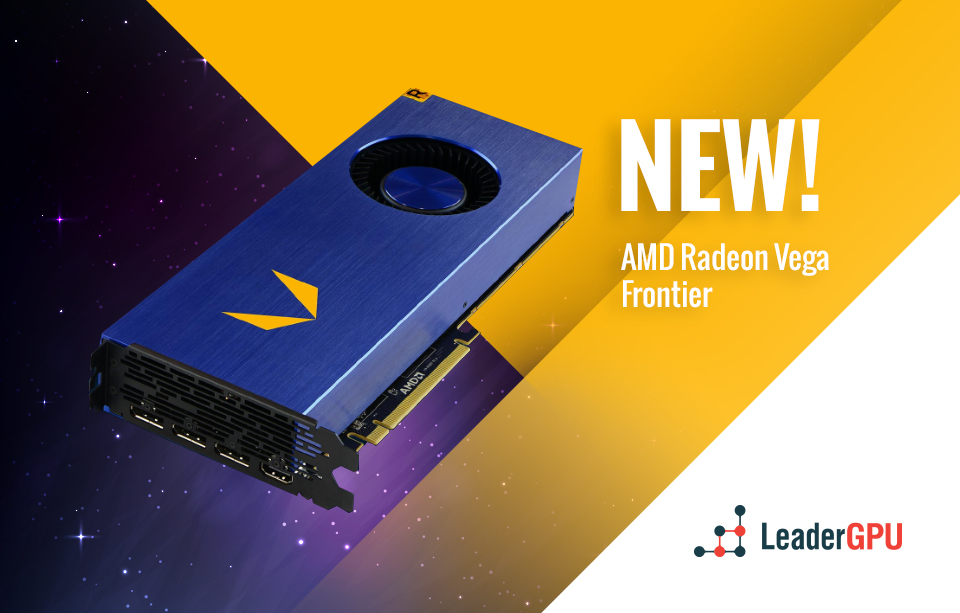 The new AMD Radeon Vega Frontier card has been developed primarily for scientists, researchers and designers. This is the first video card based on the Vega GPU technology.
The video card chipset contains 64 compute modules, 4096 stream processors, 16 GB of HBM2 memory on a 2048-bit bus, and operates at 1875 MHz, providing 480 GB/s. According to AMD developers, Vega Frontier Edition is capable of producing 25 teraflops for FP16 calculations, as well as 13 teraflops for FP32 calculations. In addition, the video card has a 16 GB HBM2 VRAM memory running in two stacks (8 GB per stack).
As AMD specialists indicated, Vega Frontier cards are not intended for gaming purposes, i.e. game drivers will not work on these video cards.
Radeon Vega Frontier Edition provides performance improvement of up to 172% in comparison to NVIDIA GeForce Titan XP (based on testing in Maya 2017).
To summarize, the Radeon Vega Frontier video card is perfect for workstations and professionals working with OpenCL.
OpenCL is the standard for developing applications for heterogeneous systems. AMD Radeon Vega Frontier graphics cards support OpenCL 2.0. It allows professionals to use the maximum power of parallel computing to accelerate computational tasks in leading CAD / CAM / CAE applications.
We already have AMD Vega cards available for order. Touch the world of modern high-performance computing with LeaderGPU!